Samsung Electronics ha annunciato oggi di aver mantenuto la sesta posizione nella classifica dei "Best Global Brands 2019" di Interbrand con un valore economico del marchio di 61,1 miliardi di dollari – ottenendo un aumento del valore del 2% rispetto allo scorso anno.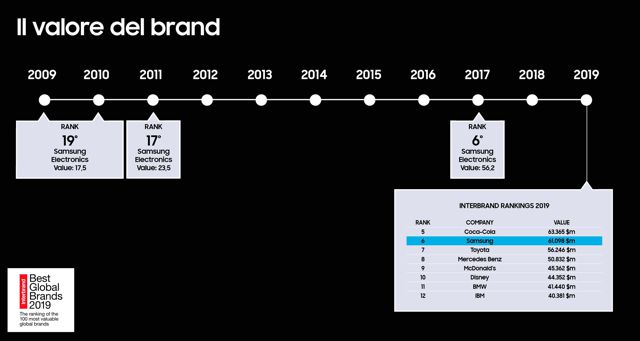 I principali fattori che hanno contributo al successo di Samsung sono stati:
I frequenti lanci sul mercato di prodotti innovativi in grado di rispondere ai nuovi stili di vita, alle tendenze e alle esigenze dei consumatori, tra cui il frigorifero BESPOKE, The Sero TV e Galaxy Fold
Un forte potenziale di crescita basato sulle future innovazioni tecnologiche, tra cui 5G, AI, IoT e il settore automobilistico.
La prima posizione a livello globale nel mercato delle memorie a semiconduttori e la leadership tecnologica del settore 
La divisione mobile di Samsung ha mantenuto il suo trend positivo grazie al successo del lancio degli Smartphone della famiglia Galaxy. L'azienda ha inoltre guidato il mercato nella categoria pieghevoli lanciando Galaxy Fold e diffuso sempre più tra i consumatori la propria brand story "Do What You Can't". 
Da 13 anni consecutivi leader nel settore dei display, Samsung non solo ha fornito nuove esperienze visive attraverso i display QLED 8K e MicroLED, ma ha anche risposto alle esigenze e agli stili di vita dei consumatori introducendo The Sero, The Frame e The Serif. Nel settore degli elettrodomestici digitali, l'azienda ha mantenuto la sua posizione di leadership nel mercato premium sia dei frigoriferi sia delle lavatrici, continuando a presentare prodotti innovativi in grado di rispondere alle diverse richieste dei consumatori come per esempio BESPOKE.
All'avanguardia nella tecnologia 5G, Samsung ha lanciato il suo primo smartphone. La sua tecnologia 5G ha giocato un ruolo significativo nel rendere l'IA e l'IoT tangibili e realizzabili e, grazie alla sua incomparabile velocità, ha inoltre accelerato l'era dei veicoli autonomi.
Quest'anno l'azienda ha anche consolidato la propria posizione nel mercato delle memorie a semiconduttori, dando avvio alla produzione in serie della prima DRAM mobile LPDDR5 a 12 GB del settore e della V-NAND di sesta generazione, che presenta il primo design single-stack da 100+ layer del settore. Inoltre, Samsung ha costantemente investito in R&D e ampliato gli impianti di produzione nel mercato dei semiconduttori di sistema.
La leadership di mercato di Samsung e i suoi costanti investimenti in innovazione sono alcuni degli elementi che hanno contribuito al successo di quest'anno. L'azienda ha concentrato i propri sforzi anche per espandere il proprio ecosistema di prodotti attraverso partnership strategiche, nonché investimenti in start-up che hanno dato vita a nuove opportunità di business in diversi settori, compresa l'industria automobilistica.
Siamo entusiasti che il nostro costante impegno nello sviluppo di tecnologie innovative in grado di soddisfare i consumatori siano stati ben accolti
Ha affermato YH Lee, Global CMO di Samsung Electronics
Per crescere ulteriormente come brand, continueremo ad ascoltare e ad imparare dai nostri consumatori, nonché a guidare i cambiamenti della società attraverso l'innovazione, in modo da poter crescere tutti insieme
A seguito dell'annuncio dei "Best Global Brands 2019" di Interbrand, il Best Global Brands summit si terrà il 23 Ottobre a New York.
| | | | | | | | |
| --- | --- | --- | --- | --- | --- | --- | --- |
| Anno | 2013 | 2014 | 2015 | 2016 | 2017 | 2018 | 2019 |
| Valore del marchio ($ milioni) | 39,610 | 45,462 | 45,297 | 51,808 | 56,249 | 59,890 | 61,098 |
|    Classifica del marchio | 8 | 7 | 7 | 7 | 6 | 6 | 6 |