Gameloft, leader nello sviluppo e distribuzione di videogiochi, su licenza di ViacomCBS Consumer Products, è orgogliosa di annunciare che The Love Boat: Puzzle Cruise è finalmente disponibile su App Store e Google Play. The Love Boat: Puzzle Cruise è un puzzle game match-3 in cui al giocatore verrà data la possibilità di decorare la nave da crociera teatro delle disavventure comiche e romantiche dell'equipaggio dell'amata serie TV  The Love Boat, ancora trasmessa e scolpita nei cuori dei fan di tutto il mondo. In The Love Boat: Puzzle Cruise i giocatori incontreranno il simpaticissimo equipaggio della famosa serie CBS e salperanno per una crociera indimenticabile!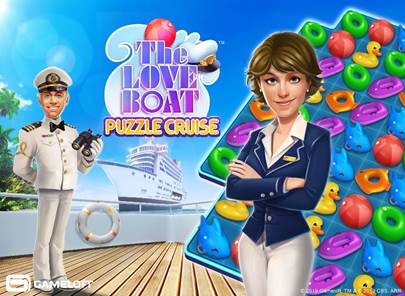 Grazie alla sua fedeltà a The Love Boat, in The Love Boat: Puzzle Cruise  i giocatori si lasceranno travolgere dalla nostalgia nel ritrovare personaggi amatissimi come il Capitano Stubing, Julie McCoy, Dr. Bricker, Gopher Smith e Isaac Washington mentre sono al lavoro per creare la crociera perfetta! In questa avventura originale, i giocatori vivranno una nuova storyline piena di amore e divertimento e aiuteranno l'equipaggio a decorare e arredare ka nave, al fine di creare un vero e proprio design di lusso.
La storia procederà a colpi di puzzle match-3, un gameplay collaudato ma qui arricchito con nuove meccaniche come la Ruota dei Colori – un potente bonus che spazza via un intero colore dalla griglia! Colleziona Stelle, Monete e Potenziamenti per superare sfidanti livelli match-3 e sbloccare nuovi capitoli, episodi e zone della nave.
The Love Boat è una leggenda della TV, amata da milioni
Afferma Thomas Aurick, VP of Creation at Gameloft.
Siamo entusiasti di poter continuare ad assistere alle avventure comiche e romantiche di questa indimenticabile nave da sogno. The Love Boat: Puzzle Cruise è un modo completamente nuovo di vivere The Love Boat! Salite a bordo, vi aspettiamo