Una piazza, centinaia di persone e un'incredibile esperienza sonora: quello che senti cambia quello che vivi. E' stato questo il leitmotiv di THE LISTENING EFFECT, l' Audio Mob organizzato da Cellularline e Integer, la divisione eventi del gruppo TBWA\Italia,  in occasione del Mobile World Congress di Barcellona.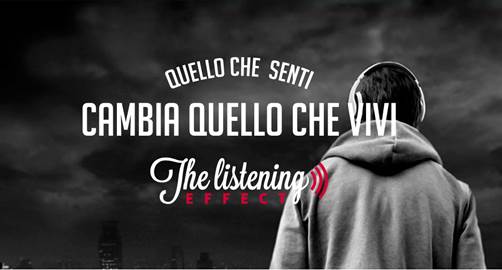 A centinaia di ragazzi è stato chiesto di scaricare sul proprio cellulare o lettore mp3 una traccia audio dal sito Cellularline e riunirsi il 22 febbraio a Barcellona in Plaza del Poble Espanyol. Una volta scattata l'ora x la folla ha indossato le proprie cuffie ed ha cominciato a seguire le indicazioni della voce guida contenute nella traccia audio.
I flashmobbers, hanno iniziato ad eseguire movimenti, ballare, battere le mani, freezzarsi, correre in diverse direzioni, in una sola parola… divertirsi! Il tutto sotto gli occhi curiosi dei passanti, inconsapevoli del fatto che in realtà i ragazzi stessero seguendo delle istruzioni ben precise! The Listening Effect adesso è un'esperienza che puoi vivere e condivere online sui tuoi canali social, per diffondere la più incredibile esperienza audio di sempre. Chiunque voglia rivivere l'emozione del Listening Effect può farlo collegandosi alla pagina dedicata o dal sito di Cellularline.